I was reading this incredible book (God's Demon by Wayne Barlowe) about the demons of hell and the story of one demon who attempted to regain Heaven and I came across this character called Lilith.  I had heard of Lilith before, of course, but I really knew nothing about her.
Much has been written about Lilith.  There were stories of demons named Lilitu and Lilu in ancient Sumeria and Assyria which took on various attributes, but  often interacted with people in a number of sexual ways.    One source describes her as:
"A female demon of the night who supposedly flies around searching for newborn children either to kidnap or strangle them. Also, she sleeps with men to seduce them into propagating demon sons. Legends told about Lilith are ancient. The rabbinical myths of Lilith being Adam's first wife seem to relate to the Sumero-Babylonian Goddess Belit-ili, or Belili. To the Canaanites, Lilith was Baalat, the "Divine Lady." On a tablet from Ur, ca. 2000 BCE, she was addressed as Lillake. "
There are many ancient allusions to her, but the accounts that I find the most interesting is the references to her from Jewish FolkloreSome of these stories said that God created Lilith before Eve as quoted below from an article in Wikipedia. The photograph is also from Wikipedia:
"After God created Adam, who was alone, He said, 'It is not good for man to be alone.' He then created a woman for Adam, from the earth, as He had created Adam himself, and called her Lilith. Adam and Lilith immediately began to fight. She said, 'I will not lie below,' and he said, 'I will not lie beneath you, but only on top. For you are fit only to be in the bottom position, while I am to be the superior one.' Lilith responded, 'We are equal to each other inasmuch as we were both created from the earth.' But they would not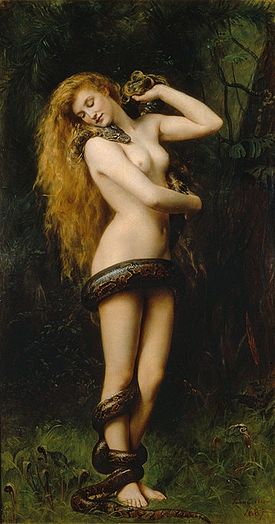 listen to one another. When Lilith saw this, she pronounced the Ineffable Name and flew away into the air."
The angels chased after Lilith to bring her back but she would not come, agreeing to one hundred of her babies dying each year as a penalty, but having dominion over boy babies by causing them sickness for eight days after birth, and female babies for twenty days after birth.
When the angels insisted on returning her, she agreed to leave the babies alone if they wore an amulet with the likenesses or names of the angels upon it.  Thus for over a thousand years the Jewish people made amulets for their children to ward off her daughters who were called the Lilim.
Thus two traditions of stories portray Lilith in two ways: one as an incarnation of lust that leads men astray, and another as a baby strangling witch.  Here is an interesting account of the legends.